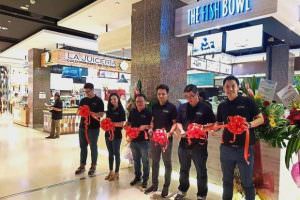 The Fish Bowl opened in 2016 with the goal of introducing healthy fast food for Malaysians on the go.
It claims to be one of the first authentic premium poké restaurants in Malaysia.
Having successfully introduced the poké bowl craze to Bandar Sunway and Bandar Utama folk, the restaurant is now ready to take Kuala Lumpur by storm.
The Fish Bowl opened its doors in Pavilion Kuala Lumpur, allowing city folk to finally be exposed to the poké bowl experience. Due to the fast-paced environment within the area, The Fish Bowl kiosk in Pavilion KL allows for convenient takeaways so that city folk can easily enjoy their poké bowl on the go.
The restaurant offers an extensive range of items on its menu so customers can easily customise their poké bowls. Those looking for quick alternatives can select from the bestseller list, which provides preselected combinations. Lim said the best-selling item on the menu was the Salmon Shoyu. He also recommended the Baby-Racha or Monster-Racha sauces for foodies who prefer a dash of spiciness with their meals.
There are on-going promotions for office-goers and students. On the 30th of every month, office-goers need only show their working ID or corporate card to the cashiers to enjoy two standard poké bowls at RM30.
Meanwhile, students may enjoy a standard poké bowl at RM13 upon flashing their student card to the cashiers on the 13th of every month.
"We believe in providing the best experience for our customers. I believe customers will come to us when they feel our sincerity through our service," Lim said.
The Fish Bowl is also planning to expand to three other locations soon – Desa Park City, KL Eco City and Mont Kiara. There are also plans to open outside the Klang Valley.
Lim said they were in the process of opening a different restaurant with cooked items to cater to customers who might not be agreeable with the raw food served at The Fish Bowl.
Retrieved from: https://www.thestar.com.my/metro/metro-news/2017/10/31/popular-poke-restaurant-opens-third-branch-in-heart-of-kl/